Software
The Center is developing methods and delivering and maintaining codes to carry out electronic structure calculations based on Density Functional Theory (DFT) and first principles molecular dynamics (FPMD) - the Qbox code, and to compute excited state electronic properties within many body perturbation theory (MBPT) - the WEST code; software to compute transport coefficients from first principles, integrated with FPMD is being built using Qbox & WEST as bases. These transport coefficients serve as inputs to continuum-particle codes (COPSS) that will predict the effect of applied fields on a material's structure and performance.

Within a client-server strategy, work is in progress to couple quantum (Qbox) and classical Molecular Dynamics (MD), and Monte Carlo (MC) codes (LAMMPS and HOOMD-blue) through a suite of advanced generalized-ensemble sampling techniques (SSAGES), which will in turn operate in tandem with continuum codes. This integrated approach will enable simulations of assembly processes of nano- or meso-building blocks of arbitrary shapes, with designer electronic properties; it will also enable ab initio based calculations of the free energy of complex materials, both at equilibrium and far from equilibrium.

More about interoperability of the codes

.
University of California Davis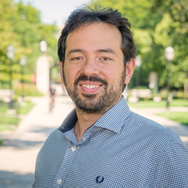 University of Chicago & Argonne National Laboratory
University of Notre Dame
University of Chicago & Argonne National Laboratory